MS-1000 R / L, MS-1030 R / L, MS-1070 R / L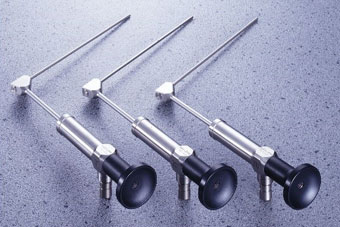 Features
● Smooth surgical
manipulation In the microscopic surgical operation, while observing the endoscopic image, the endoscope guiding central part was bent so that surgery can be carried out reasonably. Endoscope · Avoid contact of the CCD camera with microscope and surgical instruments and disturbing the visual field of the microscope. Continuous monitoring during surgery can be performed without obstructing the field of view under the microscope, so smooth and more advanced microscopic surgery becomes possible.
●
Excellent operability Extensive observation with endoscopic images becomes possible, confirming the deep part which is difficult to observe with the conventional microscope, side, back side which becomes a blind spot, enlarged observation is also possible, You can measure reliability improvement.
● A bright and clear visual field
Insertion section can obtain bright and sharp images superior in wide viewing angle and light distribution characteristics at 80 ° C by new optical design despite the small diameter φ2.7 mm. In order to be able to cope with narrow surgical field, proximity performance is improved and enlarged observation with high magnification is also possible.
● Abundant line-up
according to surgery We have a range of viewing directions of 0 °, 30 °, and 70 ° in different viewing directions. In order not to interfere with the surgical procedure, we prepared the right guide (R type) left side (L type) for the light guide attachment position and made care so that we can select the instrument type according to the procedure.
specification
Tolerance ± 5% (※ 10%, * mark ± 15%)
MS-1000 R / L
MS-1030R / L
MS-1070 R / L
Effective length

143.9 mm

144.5 mm

146.0 mm

OD
Φ2.7 mm
Φ2.7 mm
Φ2.7 mm
Viewing direction *
Front view

0 °

Front perspective

30 °

Front perspective

70 °

Viewing angle *
80 °
80 °
80 °
Medical device approval number 21000 BZY00339000