From
lesion pathology diagnosis to treatment improvement LAC-06FY / LAC-02FY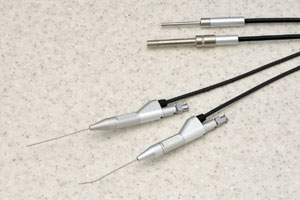 Features
A wide range of applied
lacrimal ductal tube inserts has been developed with a new surgical procedure (SEP, SGI) using endoscopes, which allows the breaking of the lacrimal duct obstruction under endoscopic observation, I was able to perform surgery with diagnosis.
※ sheath induced endoscopic穿破method (SEP), sheath induction tube insertion surgery (SGI)
● operation of
high and fits in the hand in the lightweight fit is, you can easily operate in a free position.
● resolution
high image fiber of regularly arranged and resolution, in combination with HDTV MVH-1010A, image can zoom in appropriately sized to without having to worry about the monitor size and installation position, crisp in image quality An image is projected.
● Insertion Insertion part with an
external diameter of 0.9 mm is easy to insert even in the lacuna of the lacrimal duct where there are many bends and a wide range of observations can be made from Tears Kosuge to nasolacrimal duct.
● durability
insertion portion is also in the running of the complex lacrimal duct lumen of a thin tear Kosuge up to the nasolacrimal Kan, the excellent structure to the flexibility and durability, can be accurately guided to the observation site.
specification
| | | |
| --- | --- | --- |
| | LAC – 06 FY | LAC-02FY |
| Insertion manager | 50 mm | 50 mm |
| Maximum insert diameter | Φ 0.9 mm | Φ 0.9 mm |
| Tip shape | Wang type | Straight type |
| Channel diameter | Equivalent to φ 0.3 mm (irregular shape) | Equivalent to φ 0.3 mm (irregular shape) |
| Viewing angle * | 65 ° | 65 ° |
Medical device certification number 223 AFBZX00096000
● Dimensions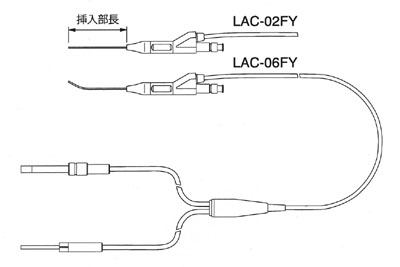 Examples of endoscopic procedures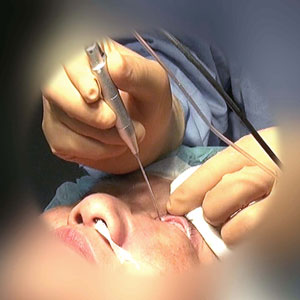 Endoscopic image (lacrimal endoscope)
| | | |
| --- | --- | --- |
| | | |
| Observation of lumen of lacrimal duct | Confirmation of lacrimal tube | Observation of nasolacrimal duct opening |