ENT-30FC / ENT-30PC / ENT-30SC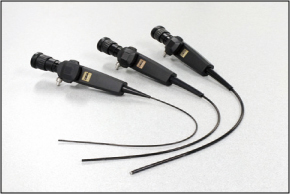 It is
a portable scope series that made cordless without changing the basic performance of best-selling model ENT-30P III .
A highly functional system is best suited for swallowing function examination in the hospital and observation in house visit.
Features
● Because it is lightweight and compact, it can be operated with one hand, reducing fatigue during surgery.
● Bright observation with a high resolution image guide and high illumination efficiency light guide.
– It adopts optical lens with less distortion and depicts clear image of high resolution.
● Three different variations of outer diameter allow selection according to use.
specification
Tolerance ± 5% (※ mark + 20 ° / -10 °, asterisk ± 15%)
ENT-30FC
ENT-30PC
ENT-30SC
Effective length
310 mm
300 mm
Tip diameter
Φ2.0 mm
Φ 3.2 mm
Φ 4.2 mm
Insertion part diameter
Φ2.1 mm
Φ 3.2 mm
Φ 4.2 mm
Bow corner on ※
130
Under curved angle ※
100 °
Viewing angle *
75 °
80 °
Viewing direction
0 °
Observation depth
3 – 50 mm
Medical device certification number 227 AFBZX00033000